The story of Wave Classic
The oldest wave sailing competition still existing
Part 1, The first 10 years… 1983-1993
Den mytomspunna och prestigefyllda vågseglings tävlingen Wave Classic har en över 30-årig historia. Häng med på storyn som egentligen är en fortsättning på Wave Actions berättelse -För 35 år sedan… de första åren med vågsegling.
1983 hade vindsurfingen börjat dela upp sig i två olika riktningar, den ena riktningen var den traditionella regattaseglingen, som förutom bankappseglingar med entypsbrädor typ Windsurfer Orginal, Mistral mm, nu även hade utvecklas till tävlingar med rundbottnade brädor (Div 1, Div 2 och öppen klass). Den andra riktningen var Funboard brädor och sinker brädor (vågbrädor). För denna typ av segling krävdes frisk vind och helst vågor. Utomlands och framförallt på Oahu, Hawaii hade man under en tid kört hårdvinds regattor och även börjat tävla i vågtävlingar så som Maui Grand Prix, O´Neill invitational vid Hookipa och OP Wave Classic vid Diamond head. Brädtillverkarna hade svårt att hänga med i vad de nya vindsurfarna ville ha, vilket var en anledning till att hemma-byggandet av funboards fullständigt exploderade. Bara i Sverige såldes det över 3 500 byggsatser per år vid denna tid.
Skidmagasinet Åka Skidor hade sedan slutet av 70-talet skrivit mer och mer om vindsurfing. Deras sommarnummer handlade nästan bara om vindsurfing och till viss del även vågsurfing. Janne Ekstedt från Stockholm, som också var en av pionjärerna inom svensk vågsurfing hade under några år jobbat som reporter för tidningen och skrivit artiklar om vindsurfing brädbyggen i Australien och Hawaii. Han skrev också artiklar om vågsurfing i Biarritz och Hawaii efter alla resor han gjort till olika surf paradis.
Janne tog under sommaren 1983 kontakt med oss på Wave Action och undrade om han kunde komma ner till västkusten för att plåta lite när vi seglade i Apelviken. Janne var alltid på jakt efter nya vågsurfing ställen och han ville utforska Halland och Skåne kusten. Vid denna tid hade han och Åka Skidor börjat planera för en vågseglings tävling i Apelviken som skulle genomföras sista helgen i september.
Namnet hämtades säkert från OP (det klassiska beach klädmärket Ocean Pacific) Wave Classic som alltså kördes vid Diamond Head, Hawaii.
---
1983
8 inbjudna vågseglare samlades vid Apelvikens norra udde under sista helgen av september för att göra upp om vem som skulle bli den första Wave Classic vinnaren. Förutom oss Wave Action grabbar kom Janne Olsson och Göran Göransson från Gotland, Stefan Axelsson och Håkan Paulsson från Skåne samt Micke Britschgi och Kjell Sahlén från Göteborg. Vinden var från väst på ca 10 m/sek, alltså perfekta förhållanden. Manövrar som vi bl.a fick se var duck och enhands gippar, svängar på vågen, hopp med noslandningar och donkey kick. Göran Göransson tog hem segern i en hård final mot Stefan Axelsson och blev därmed den förste som vann Wave classic.
---
1984
För andra året i rad fick vi perfekta förhållanden, med västlig till nordvästlig vind på 10 till 12 m/sek. Deltagarantalet hade stigit till 16 vågseglare, däribland Tomas Person som var ledig från världscup seglandet. Tävlingsledningen hade nu fått förstärkning av Caj Britschgi och Staffan Sälg. Huvudsponsor var Interski/Mistral. Finalerna fick avgöras i södra delen av viken då vinden vred över mot nordväst. Nya manövrar som gjordes detta år var bl.a down wind 360 och helikopter slag. Finalen blev en repris på första året, där även denna gång Göran Göransson stod som segrare.
---
1985
Även tredje året var vinden på vår sida och gav perfekta förhållanden. Vid finalrundorna hade vinden snabbt vridigt över till NNV och gav nästan ren sidvind. Start fältet var tyvärr något desamerat då flera seglare befann sig på världscups seglingar i Holland. Bakåtloops försök var "move of the year". Finalen vanns äntligen efter tre års försök av Stefan Axelsson.
---
1986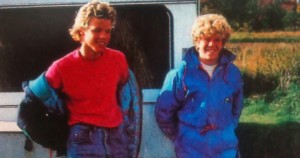 Nu hade tävlingen vuxit rejält. Ett Jeans märke var huvudsponsor och 40 deltagare var anmälda, 8 direkt kvalificerade och 32 som kvalade om 8 platser i finalomgången. Tyvärr dog västan vinden inför finalerna, så någon slutsegrare kunde inte utses. Däremot började kunde ett generations skifte skymtas med lokala ungtuppar, som gav den äldre generationen en hård match i vågorna. Bl.a slog en ung Niklas Donaldson ut Micke Britschgi i ett heat.
---
1987
För andra året i rad kunde inte finalomgången slutföras, trots reservhelg. TV sporten var på plats för att göra ett repotage för Sport Nytt. Sportmanship som var importör av O'neill gick in som huvudsponsor. Det här årets "Move of the year" var "cheese roll".
---
1988
Perfekta förhållanden med västlig vind på ca 10 m/sek. Nu hade en ny ung generation börjat blomma ut. Utav de fyra som gick vidare till semifinaler, var det bara Mats Brofors som tillhörde den äldre generationen. Mathias Holmberg vann finalen med sina perfekta cheese rolls över Wave Action's Mats Brofors, Markus Boman kom trea och Värmlänningen Per Nilsson (Walin) kom fyra.
---
1989
Bästa året hittills, med väst/nordvästlig vind på över 15 m/sek. Helgen blev dock vindfattig, men finalheaten flyttades och genomfördes istället på måndagen i solsken och bara fem plusgrader. Det här blev året då de lokala kidsen tog över helt. Med perfekta framåtloopar och table tops gick Niklas Donaldson och Markus Boman till final. Donald drog det längsta strået och stod till slut som vinnare precis när solen gick ner i horisonten.
---
1990
Detta året genomfördes tävlingarna i tveksamma förhållanden. Men till slut kunde Per Nilsson (idag Walin) från Karlstad utses till Wave Classic's mästare. Under 1990 köptes Åka skidor upp av Surfsport som blev den enda återstående surf tidningen i Sverige.
---
1991
Tävlingen inleddes med SV vind på ca 8-10 m/sek. För att sedan under en åskskur blixtsnabbt vrida över till väst och öka till 15 m/sek. Finalen blev en repris på -89 års final, och även denna gång stod Niklas Donaldson som slutsegrare.
---
1992-1993
Dessa år kunde inte tävlingarna genomföras pga vindbrist. 1993 hade tävlingen 10 års jubileum och detta år blev det sista då Surfsport/Åka Skidor stod som arrangör av tävlingen.Hall of fame wave classic –the first 10 years
---
Hall of fame wave classic –the first 10 years
1983 Göran Göransson
1984 Göran Göransson
1985 Stefan Axelsson
1986 ? (ingen vind i finalrundan)
1987 Bara kval-ingen vind till finalerna
1988 Mathias Holmberg
1989 Niklas Donaldson
1990 Per Nilsson Walin
1991 Niklas Donaldson
1992 Ingen vind
1993 Ingen vind